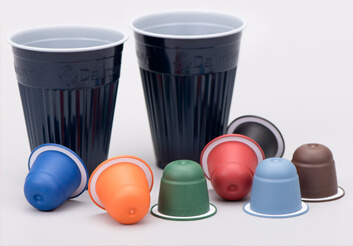 Packaging
Masterbatches for Packaging
Color Service supplies colors for the use in thermoformed plastic packaging as well as for manufacturers of food product packaging. A good example are color with the special "Gold" effect that are used in packaging of several well-known manufacturers of cookies and chocolate brands. We also supply lid and closure manufacturers. It is important here that the customer receives a lid that closes well and still remains flexible so that bottles can be opened easily. The masterbatches needed for this contain special pigments and additives from Color Service. Discover the opportunities of a Color Service solution and contact us regarding the use for your production!
Masterbatches for Industrial Packaging
The well-known blue barrels as well as larger industrial-size waste containers are manufactured with Color Service masterbatches. We optimized the production time and the process in a way that we can deliver the color masterbatch for this application quickly, effectively and at a competitive price. For you as well?
Household and Cleaning Supply Packaging
In close coordination with our clients we at Color Service develop our tried and true masterbatches for the various polymers. Especially for household and cleaning supply packaging, these are mostly PE and PP. Thanks to blow molding equipment we can provide our customers with the standard color swatches as well as a bottle sample. This already helps in advance of production to obtain a better idea of special effect color on the final product. You, too, can take advantage of this! Our sales office team can supply you with additional information about our products for the packing segment.