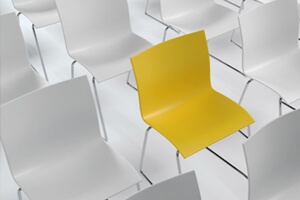 Furniture
Masterbatches in the Kitchen
Our masterbatches are also traditionally frequently used for kitchen furnishings, such as handles. With our extensive assortment of silver and metallic effects and 4 decades of expertise we garnered the trust of several large kitchen designers and manufacturers. We work jointly with the construction teams of these companies to continually improve masterbatches for the most varied technical polymers. In addition, our universal masterbatch is an especially proven product to minimize flow lines in kitchen manufacturing.
Masterbatches for Chairs
Masterbatches also play an important role in today's furniture production, such as in the case of chairs, since plastic parts often are indispensable. Technical polymers are specifically used for design aspects and functional furniture, such as desk chairs. Changing color trends are a hot topic in this segment that we love to service with our experience. Our well-equipped laboratory would love to work out next season's trend colors with you. Take advantage of this as well and let us know your requirements for masterbatches in the kitchen production. Our sales office team is looking forward to your call!